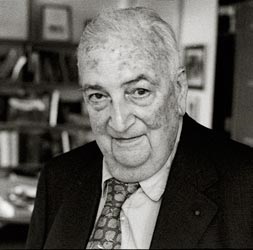 Baruj Benacerraf, brother of the philosopher Paul, received the 1980 Nobel Prize in Physiology or Medicine, shared with George Snell (USA) and Jean Dausset (France), for his discovery of immune response (Ir) genes and of the role that some of these genes play in autoimmune diseases. Everyone's body cells have a unique surface pattern – their own biological fingerprint – determined by the formation of histocompatibility (H) antigens, found on the cell mem- brane. These enable different body tissues to exist side-by-side and are key to why some people are more susceptible to certain diseases, why a cancer cell is eliminated in some cases and allowed to grow into a tumour in others, and in determining the compatibility of organ donations. Snell introduced the concept of H antigens, Dausset proved their existence in man and Benacerraf showed that genetic factors controlling the H antigens regulate the interaction among the various cells belonging to the immunological system.
Benacerraf was born in 1920 in Caracas to Sephardic Jews – a Spanish-Moroccan father and a French-Algerian mother. The family moved to Paris when Baruj was five, but returned to Venezuela as war loomed in 1939. In 1940 Baruj entered Columbia University in New York, gaining a BSc in 1942 and going on to the Medical College of Virginia in Richmond. He became a naturalised US citizen in 1943, when he also married Annette Dreyfus, a French student he met at Columbia University. They have a daughter, born in 1949. Benacerraf received his MD in 1945 and served in the US Army in 1946–47, stationed mainly in France. After his discharge, he studied immunology at Colum- bia and later at the Broussais Hospital in Paris. In 1956 he joined the faculty of New York University School of Medicine, rising to professor of pathology in 1960.
At NYU he began his Nobel-winning work, developing the concept of Ir genes, which control the body's response to antigens (infectious or foreign materials). His findings also helped understanding of autoimmune diseases, such as multiple sclerosis, in which the immune system mistakenly attacks its own tissues. During this time he also briefly managed a New York bank, which had been bought by his family and associates from Venezuela, but gave up the steady job for his scientific work. In 1968 Benacerraf joined the National Institute of Allergy and Infectious Diseases but in 1970 left to chair the pathology department at Harvard, where he remained until 1991.
He has also served on several scientific and medical boards, including as president of the Sidney Farber (now Dana- Farber) Cancer Institute in Boston. He has received several honours, including the National Medal of Science in 1980 and Rabbi Shai Schacknai Prize, Hebrew University of Jerusalem, 1974.
This text of the Nobel Laureate was taken from the book: "NOBELS. Nobel Laureates photographed by Peter Badge" (WILEY-VCH, 2008).