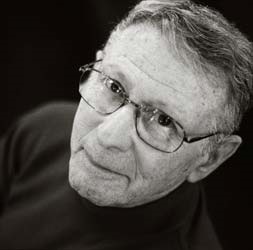 Paul Berg is an American biochemist and professor emeritus at Stanford University. He received one of the two 1980 chemistry prizes "for his fundamental studies of the biochemistry of nucleic acids, with particular regard to recombinant-DNA". His studies showed how to introduce genes from one DNA molecule into another and thus laid the foundation for genetic engineering.

Berg was born in 1926 in Brooklyn, New York. As a boy he wanted to emulate medical scientists and joined an after- school science club. He graduated from Abraham Lincoln High School in 1943 and enrolled at New York's City College to study chemical engineering. He also enlisted in the Navy and flew anti-submarine aircraft during the war, returning to his studies in 1946 at Pennsylvania State College and earning his biochemistry degree two years later. As a project during his senior year, Berg studied radioisotopes as tracers, tracking the conversion of foodstuffs to cellular materials. Much of his research material came from Western Reserve University in Cleveland, Ohio, which he made his next destination. This, he says, was a good choice, as WRU's pioneering work in this field had made it a leading biochemistry centre in the US.

Berg gained his PhD in 1952 by exploring the conversion of formic acid, formaldehyde and methanol to their fully reduced state, and was among the first to demonstrate the role of folic acid and vitamin B12 in these processes. He also studied in Copenhagen at the Institute of Cytophysiology, where he and a colleague discovered a new enzyme, and at Washington University in St Louis, where he discovered a previously unknown class of biological compounds – acyl adenylates – used in the linking of amino acids to tRNAs. He remained in St Louis as assistant professor for six years, moving to Stanford in 1959 to help set up the new department of biochemistry. There he developed an interest in mam- malian cells and experimented with Polyoma and SV40 tumor viruses. He used SV40 to introduce new genes into mam- malian cells, and developed a way to join two DNAs together. This was the start of recombinant DNA technology, and one of the earliest practical results was the development of a strain of bacteria for producing insulin. However, it also opened the floodgates for gene-splicing or Genetic Modification technology, which is still treated with suspicion by many.

More recently, his team's research involved genome projects and study of the HIV-1 virus. Berg remained at Stanford until he retired in 2000. Since then he has written a biography of the genetics pioneer George Beadle, published in 2003, and campaigns in favour of stem cell research. He was awarded the National Medal of Science in 1983.

This text of the Nobel Laureate was taken from the book: "NOBELS. Nobel Laureates photographed by Peter Badge" (WILEY-VCH, 2008).

On 15 February, Paul Berg died at the age of 96 in Stanford, California.

Exhibition "Sketches of Science" by Volker Steger - Locations & Dates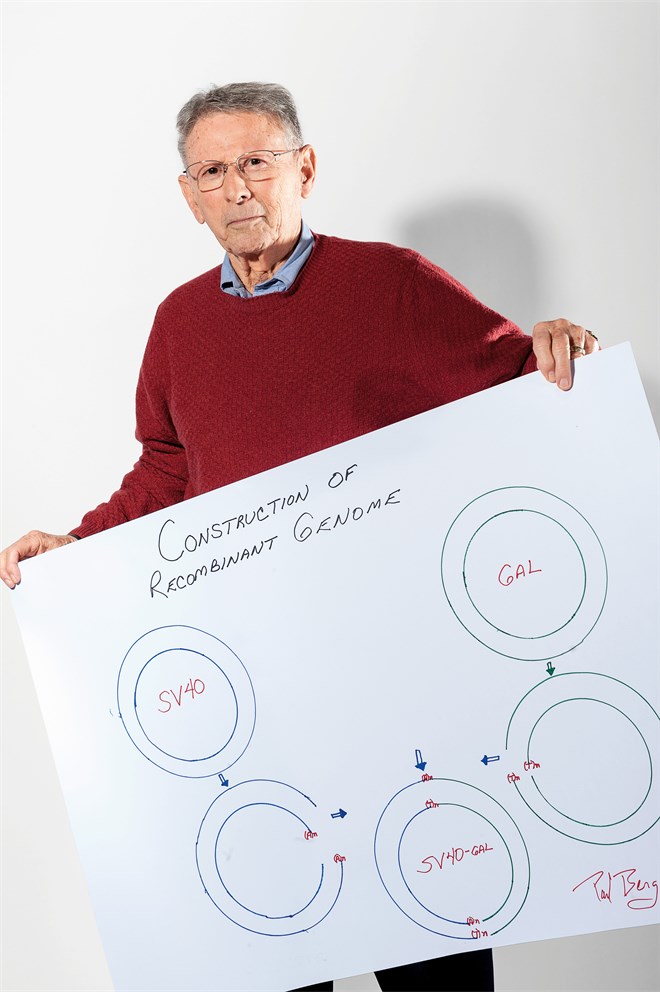 By Volker Steger
Now, this is embarrassing. I forgot to bring my super-special Nobel crayons to the shoot. And, I'm late! Finally, I find a parking place at Stanford University. But, the parking meter only takes quarters (which I don't have). At the location of the shoot, there is no space to set up my lights and the white backdrop... Berg's assistant found some magic markers while I set up everything outside, in front of the cafeteria. I had to chase away some curious onlookers. I managed to complete the session before the campus police arrived! Berg also had a little help. He created the perfect circles in the drawing using a template (actually, it was a bucket).