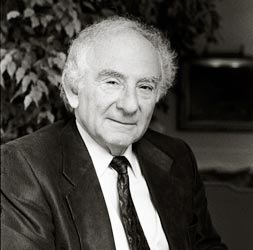 Leon N Cooper was groomed in the sciences from an early age. Born in 1930 in New York, he attended the Bronx High School of Science before going to Columbia University, where he earned a BA in 1951, MA in 1953 and PhD in 1954. In rapid succession he worked at the Institute for Advanced Study in Princeton (1954–55), University of Illinois (1955–57), and Ohio State University (1957–58) before settling at Brown University in Providence, Rhode Island, in 1958. There he was named Thomas J. Watson Sr. Professor of Science in 1974.

In 1972, he received the Nobel Prize in Physics (jointly with John Bardeen and John Robert Schrieffer) for work he had carried out in his twenties. In 1956 he discovered that electrons, which normally repel each other, form pairs in superconductors. These "Cooper pairs" are the basis of the BCS theory of superconductivity (named for the initials of its authors).

Cooper is the founding director of Brown University's Center for Neural Sciences, set up in 1973 to study animal nervous systems and to gain an understanding of memory and other brain functions. This Center evolved into the Brown University Department of Neuroscience, Brain Science Program and Institute for Brain and Neural Systems, of which Cooper is director. Among his recent scientfic achievements is the formulation of a theory of synaptic modification. This theory suggested experiments that uncovered important new phenomena. Together with theory, these help in formulating an explanation of how the human mind works. In 2013 Professor Cooper was awarded the Susan Culver Rosenberger Medal, the highest honor the Brown University faculty can give.

Cooper was on the governing board and executive committee of the International Neural Network Society and a member of the United States Defense Science Board. He is cofounder of Nestor Inc, which specializes in applying artificial intelligence systems to commercial and military applications. Nestor's systems learn by example to emulate human decisions in various situations such as risk assessment, mortgage origination, credit card fraud detection and traffic monitoring. Cooper has also founded and/or participated in several other start-up companies.

In addition to the Nobel Prize, Cooper was awarded the National Academy of Sciences' Comstock Prize (with Schrieffer) in 1968, as well as various other awards. He is a fellow of the American Physical Society and the American Academy of Arts and Sciences; sponsor of the Federation of American Scientists; member of the American Philosophical Society, National Academy of Sciences, Society for Neuroscience, American Association for the Advancement of Science, Phi Beta Kappa, and Sigma Xi. He was an Alfred P. Sloan Research Fellow from 1959 to 1966, a Guggenheim Fellow in 1965–66, and has lectured and worked abroad at various institutions including the Institut Pasteur and the College de France in Paris and the European Organization for Nuclear Research (CERN) in Geneva, Switzerland. His books include the unorthodox philosophical text An Introduction to the Meaning and Structure of Physics (1968).
This text of the Nobel Laureate was taken from the book: "NOBELS. Nobel Laureates photographed by Peter Badge" (WILEY-VCH, 2008).