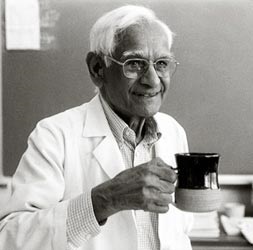 APPOINTMENTS

1970-Present
Sloan Professor, Departments of Biology and Chemistry Massachusetts Institute of Technology, Cambridge, MA.

1974-1980
Andrew D. White Professor-at-large, Cornell University, Ithaca, NY

1960-1970
Professor & Co-director, Institute for Enzyme Research University of Wisconsin, Madison, WI.

1964-1970
C.A. Elvehjem Professor

Spring 1966
Visiting Professor, Harvard Medical School

April 1964
Visiting Professor, Stanford University, Palo Alto, CA

1959
Visiting Professor, Rockefeller University, New York

1952-1960
B.C. Research Council, Vancouver, B.C., Canada; Head, Organic Chem. Group

AWARDS AND PRIZES

1958
Merck Award from Chemical Institute of Canada;

1959
Fellow, Chemical Institute of Canada;

1960
Gold Medal, Professional Inst. of the Public Service of Canada;

1967
Dannie-Heinneman Preis, Gottingen Academy, Germany;

1968
Nobel Prize for Medicine or Physiology (shared with R. W. Holley and M. Nirenberg);

1968
ACS Award for Creative Work in Synthetic Organic Chemistry;

1968
Louisa Gross Horwitz Prize awarded by Columbia University;

1968
Lasker Foundation Award for Basic Medical Research;

1968
Distinguished Service Award, Watmull Foundation, Honolulu, Hawaii;

1971
American Academy of Achievement Award, Philadelphia, PA;

1972
Padma Vibhushan Presidential Award, India;

1972
J. C. Bose Medal, Bose Institute, Calcutta, India;

1974
Willard Gibbs Medal of the Chicago Section of the Amer. Chem. Society;

1980
Gairdner Foundation Annual Award, Toronto, Canada;

1986
Ellis Island Medal of Honor;

1987
National Medal of Science;

1987
Paul Kayser International Award of Merit in Retina Research;

2000
M.I.T. School of Science Distinguished Service Award.

MEMBERSHIPS AND HONORARY ELECTIONS TO SOCIETIES

Elected Member of the National Academy of Sciences, Washington, DC (1966), Elected Fellow of the American Assoc. for the Advancement of Science, Washington, DC (1966), Elected Overseas Fellow, Churchill College, Cambridge, England (1967), Elected Fellow of the American Academy of Arts and Sciences (1967), Elected to Deutsche Akademie der Naturforscher Leopoldina, Halle/Saale, Germany (1968), Foreign Academician, the USSR Academy of Science (1971), Elected to the American Philosophical Society, Philadelphia, PA (1973), Foreign Member of the Indian Academy of Sciences (1976), Pontifical Academy of Sciences, Rome, Italy (1978), Foreign Member of the Royal Society, London, England (1978), Foreign Member, Royal Society of Edinburgh (1982), Order of San Carlos, Government of Columbia, South America (1986), Honorary Fellow, Indian Society of Genetics and Plant Breeding (1991), Honorary Member of the Pharmaceutical Society of Japan (1994), Foreign Honorary Member of the Japanese Biochemical Society (1996). Honorary Degrees from 14 universities.


RESEARCH PROJECTS ONGOING OR COMPLETED DURING THE LAST 3 YEARS

Project completed during the last 3 years. NEI 1 RO1 EY11716 (January 1998-December 2001) "Rhodopsin Misfolding in Retinitis Pigmentosa"
Principal Investigator: H. Gobind Khorana
Agency: National Eye Institute
The aims were (1), characterization and structural studies on misfolding of rhodopsin in Retinitis Pigmentosa (RP) mutants and (2), structural identification of the abnormal disulfide bond in misfolded opsins. Both these aims were pursued successfully to completion.

Ongoing Projects: NIH 2 RO1 GM28289 (December 1999 through November 2003) "Signal Transduction in G-Protein Coupled Receptors"
Principal Investigator: H. Gobind Khorana
Agency: National Institutes of Health General Medical sciences
The aims in this research proposal ...