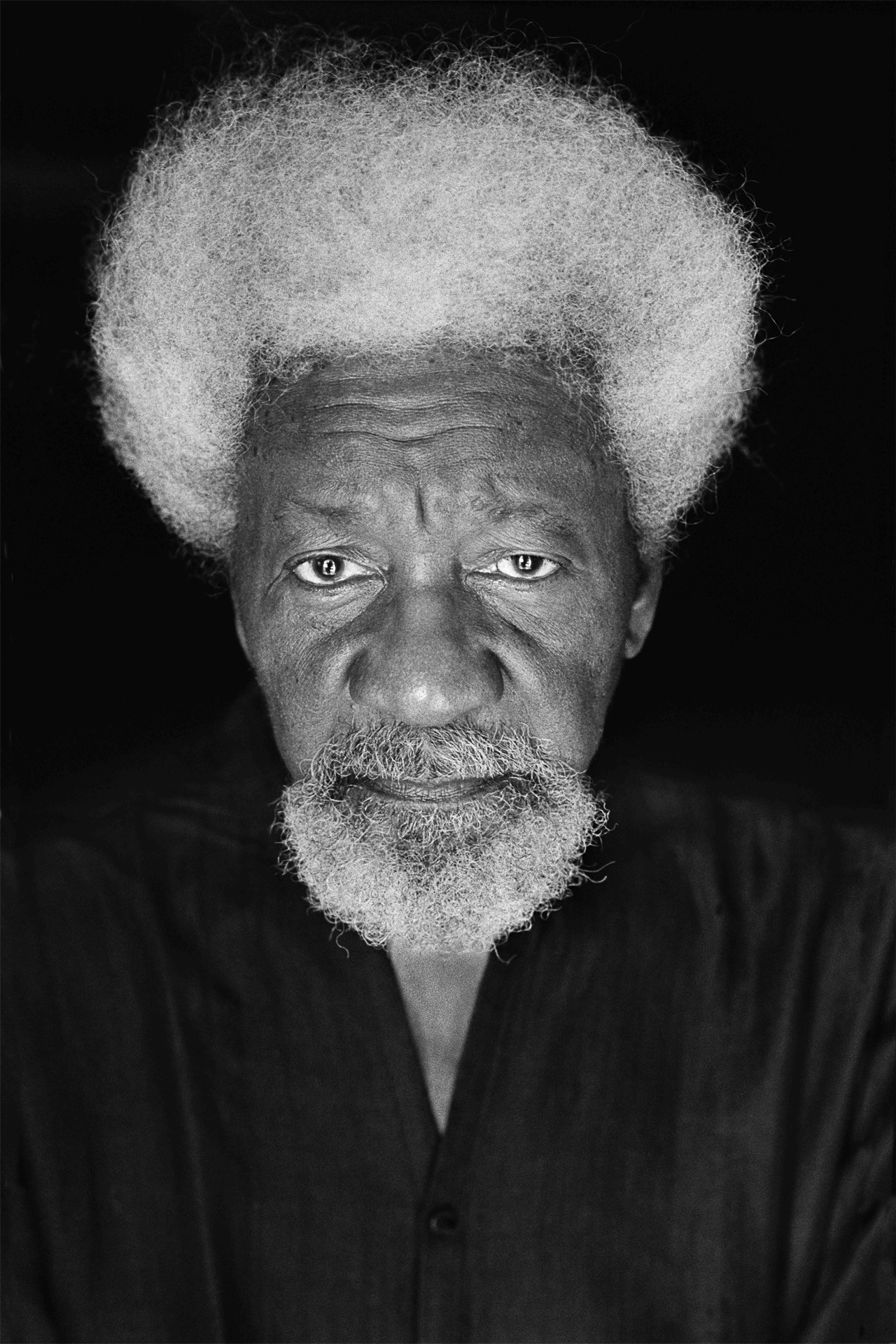 He was born into the Yoruba culture, but educated partly in Britain. He has written numerous plays, including 'A Dance of the Forests' (1960) and 'Death and the Kinq's Horseman' (1975), poetry collections, prose works including two novels and an acclaimed collection of essays 'Myth, Literature and the African World' (1975). The Nobel judges praised his work as "vivid, often harrowing, but marked by an evocative, poetically intensified diction. Soyinka [is] one of the finest poetical playwrights that have written in English".
He attended Abeokuta Grammar School and Government College Ibadan, where he won his early literary prizes, proceeding to the University College in 1952. He also worked as a clerk and medical storekeeper in a Lagos government hospital. During this period he wrote short stories, radio plays and poetry. In1954 he moved to Britain to study English Literature at the University of Leeds, gaining a BA (Hons) in 1957. He then worked at the Royal Court Theatre in London before returning to Nigeria in 1959 to do research African drama. Later, he taught drama and literature at the universities of Ibadan, Lagos, and Ife, where, in 1975, he was made professor of comparative literature. From 1960–64 he was coeditor of the literary journal 'Black Orpheus' and founded two theatre groups, 'The 1960 Masks' and the 'Orisun Theatre Company'. He has been visiting professor at the universities of Cambridge, Sheffield (U.K), Yale, Harvard, Emory (USA) among others. His BBC Reith Lectures of 2004 were published under the title 'Climate of Fear'.
Soyinka is also politically motivated. During the Nigerian Civil War, he appealed for a ceasefire, but was accused of conspiring with the Biafran rebels. He was held for 27 months, 22 of them in solitary confinement, until being released as a result of international pressure in 1969. While in prison he produced a poetry collection titled 'Poems from Prison', and also recounted his experiences in the book 'The Man Died: Prison Notes' (1972). He has remained a critic of many Nigerian and other brutal and/or corrupt administrations, including the Mugabe regime in Zimbabwe. In 2005, he became one of the leaders of an alternative National conference – PRONACO. He was forced to flee Nigeria during the rule of General Sani Abacha (1993–98) and lived mainly in the US as a professor at Emory University in Atlanta, Georgia. In 1999, however, he accepted an emeritus position at Ife. Soyinka's memoirs, 'You Must Set Forth at Dawn', were published in 2005, and a new collection of essays "Of Africa" in 2013.
Soyinka remains politically active and stands up against both secular and theocratic dictatorships and their accompanying violence and abuses of Human Rights. Despite once founding a political party - the Democratic Front for a People's Federation – he has refused to stand for political office and prefers to be seen as a literary figure, who looks deeply into society and the human psyche.
Among other recognitions, Soyinka has received the 2014 International Humanist Award, and the International Poetry Award, Trieste, in 2013.
Wole Soyinka is married to Adefolake Wole-Soyinka, with whom he has three children.