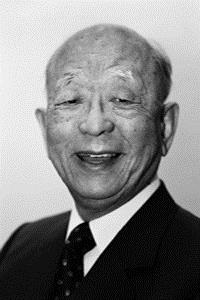 In the laboratory, Suzuki had success with experiments that failed when replicated by counterparts in the US because the nitrogen gas he was using had been contaminated with a trace of oxygen, which acted as a catalyst.
Suzuki's field of expertise is organic chemistry. Our natural world is based on carbon and building on this – synthesizing natural compounds – has led to new breakthroughs in areas as diverse as plastics, medicines and electronics. Carbon, however, is very stable, so a catalyst is required to spark a chemical reaction.
Palladium, a rare silvery-white metal, gave chemists with a precise and efficient 'breeding ground' for carbon reactions. This allows chemists to synthesize large, complex carbon-containing molecules.
Suzuki shared the 2010 Nobel Prize for Chemistry with Richard F Heck and Ei-ichi Negishi for their independent work on 'palladium-catalysed cross couplings in organic synthesis'. Heck began the process in the late 1960s. Suzuki and Negishi (who both studied at Purdue University in Indiana, USA, under 1979 Nobel laureate Herbert Brown) were among those introducing the most important refinements.
Akira Suzuki was born in Mukawa, a small town in Hokkaido, Japan, in September 1930. He was a keen maths student but on entering Hokkaido University he became interested in organic chemistry and even used organo-metallic compounds in his PhD thesis.
After completing his PhD in 1959, he was employed as a research assistant in the Chemistry Department and in October 1961, became an assistant professor of the Synthetic Organic Chemistry Laboratory at the new Synthetic Chemical Engineering Department.
Looking for a new field to fit his new role, Suzuki stumbled across (1979 Nobel Chemistry Laureate) Herbert Charles Brown's book on Hydroboration. Inspired, he moved to Purdue University in Indiana in 1963 and spent two years working under Brown. Hydroboration is the reaction of alkenes with borane to produce organic boron compounds. Seeing their potential, Suzuki launched his own research plan in Japan in 1965. It was here, liaising with Brown in the US, that Suzuki had his moment of serendipity with the contaminated gas. He found that with small amounts of oxygen catalyst, organoboron compounds produced alkyl radicals.
Suzuki's team went on to research the synthesis of organic compounds through haloboration, based on the discovery that a certain type of haloborane derivative adds to terminal carbon-carbon triple bonds. The reaction was discovered in 1981, and the following year he was invited to address the American Chemical Society on the subject. En route he was invited to give a lecture at Purdue, after which Herbert Brown told him they had been carrying out similar research, but had only investigated the reactions of internal acetylenes as substrates and, meeting no success, had given up. Another moment of serendipity for Suzuki and his team.
In 1973, Suzuki became Professor of the Third Laboratory in the Applied Chemistry Department at Hokkaido University and remained there until standing down in 1994. He subsequently worked at Okayama University of Science and Kurashiki University of Science and the Arts – before retiring from university work in 2002. As well as the Nobel Prize, Suzuki has received several awards, mostly in Japan, including the Chemical Society of Japan Award, 1989m the Japan Academy Prize in 2004 and the Order of the Sacred Treasure, Gold Rays and neck Ribbon, 2005. More recently, his life has come full circle with the American Chemical Society granting him in 2011 the honour named for his mentor, the HC Brown Award.
Exhibition "Sketches of Science" by Volker Steger - Locations & Dates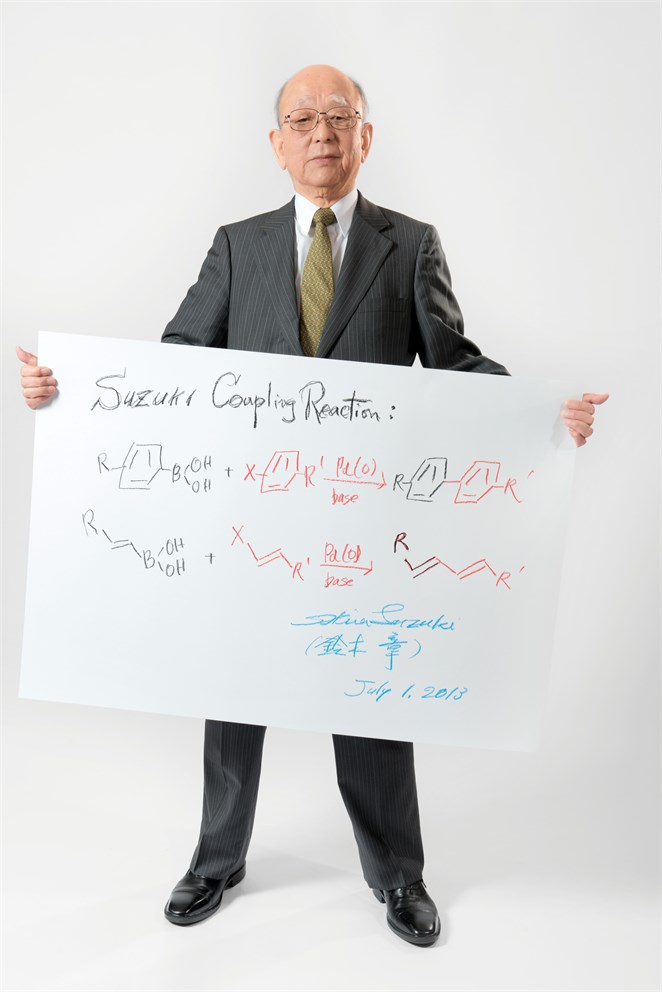 By Volker Steger
Akira Suzuki is a fashion-conscious Nobel laureate. He comes into the studio, closes the buttons of his jacket and insists: "Only pictures with my glasses on! Without them, it's not me!"
With his specs he sees sharp and looks sharp...!