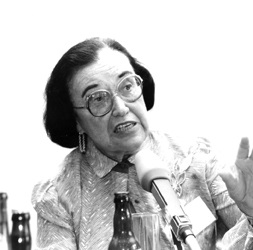 Born on July 19th, 1929 in the Bronx, New York City. Here she studied first at Hunter College, before enrolling at the University of Illinois in Urbana, where she was awarded an M.Sc. in physics in 1942, followed three years later by a Ph.D. She then worked as a Reader for Physics, before finally turning her attention to the field of nuclear medicine.

In 1950, Rosalyn Yalow took up the position of Deputy Director of the Radioisotope Laboratory at the Veterans Administration Hospital in her native South Bronx. At that time, she was particularly interested in the biochemistry of the peptide hormone, a group of extremely varied bioactive substances in the human body produced by a large number of glands and tissues (e.g. insulin in the pancreas). These were still the early days of endocrinological research, however, as it was not possible to isolate and analytically determine the substances in question, only extremely small quantities of which are contained in the secretions. Collaborating with the physician Salomon A. Berson (+ 1972), Rosalyn Yalow developed an ingenious method of detecting such quantities of picograms as long ago as the 1950s.

She used hormone-specific antibodies marked with radioactive iodine to distinguish them from other peptides and proteins, which in some cases have an extremely similar structure. This so-called radioimmunoassay (RIA), the product of a unique combination of analytical chemistry, immunology, nuclear chemistry and radiation measuring techniques, lead to the breakthrough into a new era of hormone research with all its ramifications for medical diagnosis and therapy (such as radioimmunotherapy of cancerous metastatis).

Rosalyn Yalow received the 1977 Nobel Prize for her work together with R. Guillemin (San Diego) and A. Schally (New Orleans). After Gerti Cory (1947), she was the second female recipient of this prestigious award.
Rosalyn Yalow passed away on May 30, 2011.